Minorca Hill Works
D.O.I . Letter : 26th Aug.2021
Isle of Man Department of Infrastructure
Laxey - Minorca Hill - Flood alleviation works
The Department will have a Contractor undertaking service investigations at the bottom of Minorca Hill. Work will start tomorrow morning (Friday 27 Aug). These investigations will provide information for the ongoing programme of works to reduce the risk of flooding in the area, and in particular to inform the design of improvements to the surface water drainage system on Minorca Hill itself. It is anticipated that improvements will be introduced over the upcoming winter months.
Temporary traffic lights will be in place, to facilitate access to the investigation site. Parking will be suspended as per the attached image. Wherever possible restrictions will be reduced outside working hours.
While it is hoped that all works may be completed by Saturday (28 August), allowance for unforeseen delays has been made, and in such circumstances work will carry on over the weekend.
The work is being done over the weekend to minimise the impact on residents, and to avoid conflict with the two sites of ongoing flood defence work being undertaken on week days on Glen Road.
Letters giving further information have been delivered to residents and businesses in the area of the work site.
All businesses in the area of the works; the Mona Lisa Restaurant, Shore Hotel and Laxey Launderette will operate as usual. All other areas served by Minorca Hill (e.g. Glen Road, Laxey Promenade, Old Laxey Hill) will remain fully accessible.
The Department apologises for any inconvenience that these essential works may cause and thank the public for their assistance.
*********
Highway Services.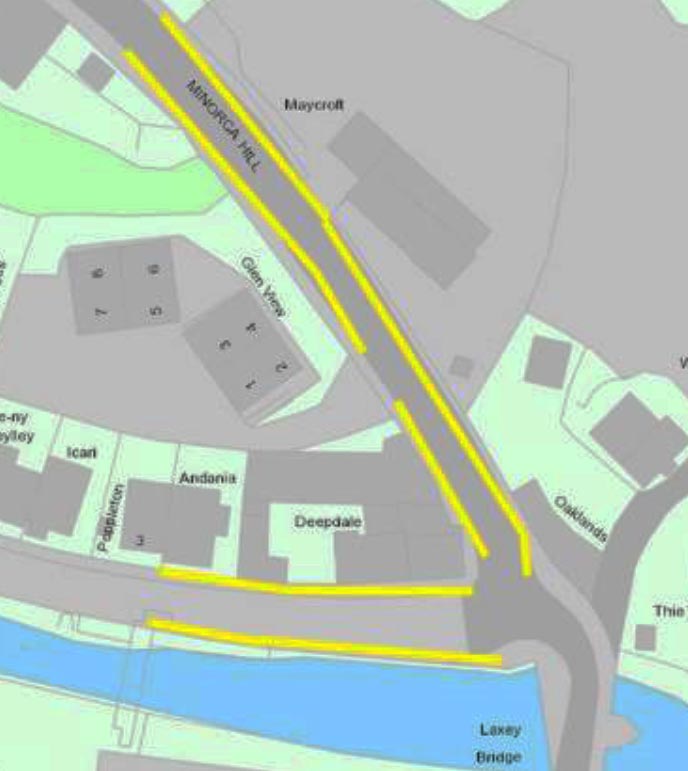 ..................................................................................................
Previous News: